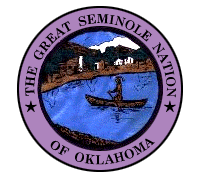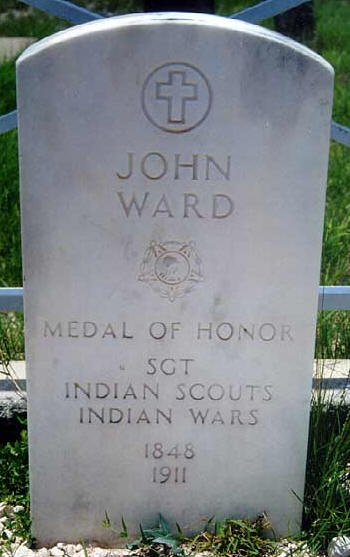 John Ward
Medal of Honor Recipient
JOHN WARD (1847 ~ 1911). Medal of Honor Recipient John Ward, whose real last name was likely Warrior, was black Seminole born near El Moral, Mexico, around 1847. The Seminoles were forced to move from Florida to the Indian Territory by the U.S. government in the 1840s.

There black Seminoles, the descendants of runaway slaves who lived in Seminole villages for generations, were oppressed by pro-slavery Creek Indians. The black Seminoles fled to Mexico, where slavery was abolished, to accept an offer from the Mexican government to fight hostile tribes in Mexico in exchange for land near Nacimiento, Coahuila. After the Civil War, the U.S. Army offered the black Seminoles (now revered for their frontier service in Mexico) land, food, and pay in exchange for service as scouts.

John Ward enlisted as a scout at Fort Duncan, Texas, on August 16, 1870. One month previous, on July 4, 1870, he married Juda Julia Wilson in Piedras Negras, Mexico, under Seminole law; their marriage was confirmed under Texas law on November 16, 1876. Juda and John Ward had seven children; Laura in 1866, Dolly in 1871, Abby in 1872, Nancy in 1873, Carolina in 1875, Toney in 1879, and Phillip in 1881.

Ward served in many engagements with hostile bands of Native Americans in West Texas, and gained the trust of his superiors for his knowledge and skill in frontier fighting. His commanding officers specifically mentioned him in reports following the Remolino Raid into Mexico and the Battle of Palo Duro Canyon. Ward was promoted to Sergeant in December, 1874.

On April 5, 1875, an attack on a stagecoach prompted Lieutenant John L. Bullis to take three black Seminole scouts, Pompey Factor, John Ward, and Isaac Payne, in pursuit of the attackers. Bullis' choice to take only three scouts instead of a larger group of soldiers surprised his superiors. However, Bullis had served for some time with the black Seminole scouts and knew their value as frontiersmen. The four men tracked the attackers across West Texas until they were spotted crossing the Pecos River at Eagle Nest Crossing on April 26. Though outnumbered by ten to one, the four men decided the element of surprise was in their favor and attacked, hoping to stampede the Indians' herd of horses and capture them while dismounted. After a period of intense fighting Bullis ordered a retreat, but was thrown from his horse as the others mounted. The three scouts rescued Bullis and made a difficult and narrow escape to the Devil's River. Lieutenant Bullis recommended all three scouts for the Congressional Medal of Honor, which Ward received in 1875 in a simple ceremony on the banks of the South Concho River.

Ward was one of the few black Seminole scouts who did not desert or threaten mutiny after the death of Adam Paine on New Year's Day 1877, a high point of friction between the black and white communities of Brackettville, near Fort Clark. Between 1884 and 1894, Ward served in South Texas and Northern Mexico against smugglers, trans-border bandits, and revolutionary groups.

He participated in the last battle of the Tin Horn War against anti-Porfirio Diaz revolutionaries at Las Mulas Ranch in Starr County, Texas. Ward was discharged from the Army on October 5, 1894. He worked as a farm laborer in Rio Grande City before returning to the black Seminole village near Brackettville to start a farm there, raising vegetables to sell in town. Due to declining health he requested a pension, which he received with the help of former commanding officer John Bullis.

Ward worked on his farm almost until the day he died, on March 24, 1911. He was buried in the Seminole Negro Indian Scout Cemetery in Brackettville.


©2001-Present
Linda Simpson

08/02/2015